OSM is a leading software development firm in Serbia established in the last 12 years. Client Satisfaction is the company's top priority. The company strives to help businesses achieve unmatched growth and desired results. The company implements a specific approach and fusion of development, design, and marketing proven to be the best practice for results.
OSM has brought together a team of professional and experienced software developers to provide high-quality services. This team of software developers understands that to be noticed in the market, and you have to perform better than your competitors. In short, the website or application should have a beautiful design and easy-to-use functionalities for end-users.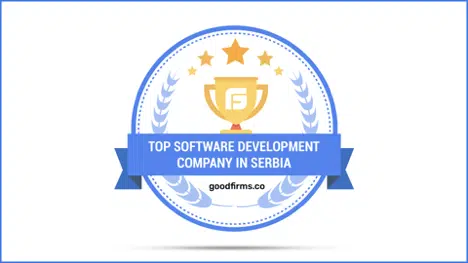 GoodFirms is a well-established B2B platform that bridges the gap between IT service seekers and their specific service provider organizations. The firm assists the service seekers to get connected with the most relevant partner through its detailed research on IT companies.
Moreover, the team of experienced researchers and analysts at GoodFirms works effortlessly to solicit client satisfaction, market penetration, total experience gained, and the quality of deliverables. GoodFirms assessed all the listed companies based on the three most essential parameters: Quality, Reliability, and Ability.
Similarly, GoodFirms also calculated the services of OSM. According to the GoodFirms researchers and analysts, the company proves to be promising in delivering top-notch Software Development Services and Solutions in Serbia.
The team of software professionals at OSM assemble their services to fit their client's requirements perfectly. Right from ideation to advertising, the company delivers unique custom-made solutions for its client's business.
Their software development, design, and marketing teams work collaboratively to bring their phenomenal idea to life. Moreover, the developers believe that companies that develop applications, websites, and software need to provide more than just code.
The software development team at OSM is formed of IT professionals focusing not only on coding but also on the visual aspect of the user interface in collaboration with a marketing panel that optimizes conversions, user retention, and the broad application experience.
At OSM, the developers believe that perfect code is essential for a smooth-running website or app. They keep pace with the latest technologies, trends, and solutions to deliver the best possible results. Their tech stack comprises all the latest technologies such as Reach, Node JS, C++, C#, Java, .NET, Swift UI, and several others.
The team of professionals at OSM focuses on the approach design from a strategic and ROI point of view. Moreover, they ensure that the client's website, app, or software has that fantastic effect in design, but a neat and intuitive interface so users can enjoy it.
OSM customizes its outsourcing services to perfectly fit its client's development requirements by hiring an entire team or an experienced individual.
OSM's exceptional services have helped the company secure a leading position amongst the top software development companies in Serbia at GoodFirms.