If you are a freelancer with limited time and resources, working for a bootstrapped client, or you are just short of funds, there are many FREE design resources available online.
Creating icons, videos, illustrations can take much of your time, right? What if we told you that you can simply download a bunch of templates, mockups, photos, videos and other essential assets and tools, completely free?
We've gathered several lists of resources recommended by our designers that you can use to make your design process easier and faster. Unleash your creativity, that's all that matters.
In this article, you'll find:
…and some bonuses! Keep reading.
Free SVG Patterns Resources
Apart from being responsive (which is very important, of course), SVG images enable full-screen, high-resolution files that take just about 5KB. A great solution for backgrounds and clean visuals in general. Here's where to find them:
Svgbackgrounds provides a great collection of customizable, scalable and high-definition backgrounds. Ideal for all sorts of websites and blogs. Plus, there's a preview option for each background so you can immediately see how it looks on a website.
A wide range of repeatable SVG background patterns to mix & match. Choose a background and foreground color, opacity and find the right combo for your needs.
A place where you can find a bunch of free design resources, SVG format as well. Feel free to experiment with the available options, however there us a download limit if you are on a free plan.
One really interesting library, a community-made collection of tileable images that can make a great, unique background. However, there's a catch: the patterns are made with SVG, but they can be downloaded only in raster format. Anyhow, we suggest exploring the works of many talented artists – surely they'll add some sparkle to your website!
A collection of creative patterns, well crafted for Figma, Sketch, Illustrator, XD. The patterns are easy to edit and customize since they are created out of layers and vector shapes.
A choice of interesting, modern and Ai, PSD, EPS, JPEG file format patterns, organized into sections. Find a wow pattern for your needs – from abstract, floral or ones with animals or fruits. The library is updated daily so make sure you don't miss today's update.
Now something a bit different – a pattern making application. Produce patterns by combining images from the library, or upload your own. When finished, download your patterns in high resolution and implement them to your project(s)!
A library that hosts a variety of customizable, SVG background patterns. The choice you can find on SVGeez is very engaging and with some customization you can make them just a perfect addition to your overall design.
Free Stock Photo Resources
Studies show that a human brain processes images much faster than text – to be precise, 60,000 times faster. Therefore, having good photos on your website (or any other digital asset) is crucial to grab attention of your target audience, fast. Here's a list of places where you can find all sorts of photos, royalty free.
Over 1 million stock images and videos at your fingertips! The collection is well-organized in sections such as: Abstract, Animals, Backgrounds, Fashion, Business, Celebrities and more which makes it easy to narrow down your choice and find just the right match for your needs.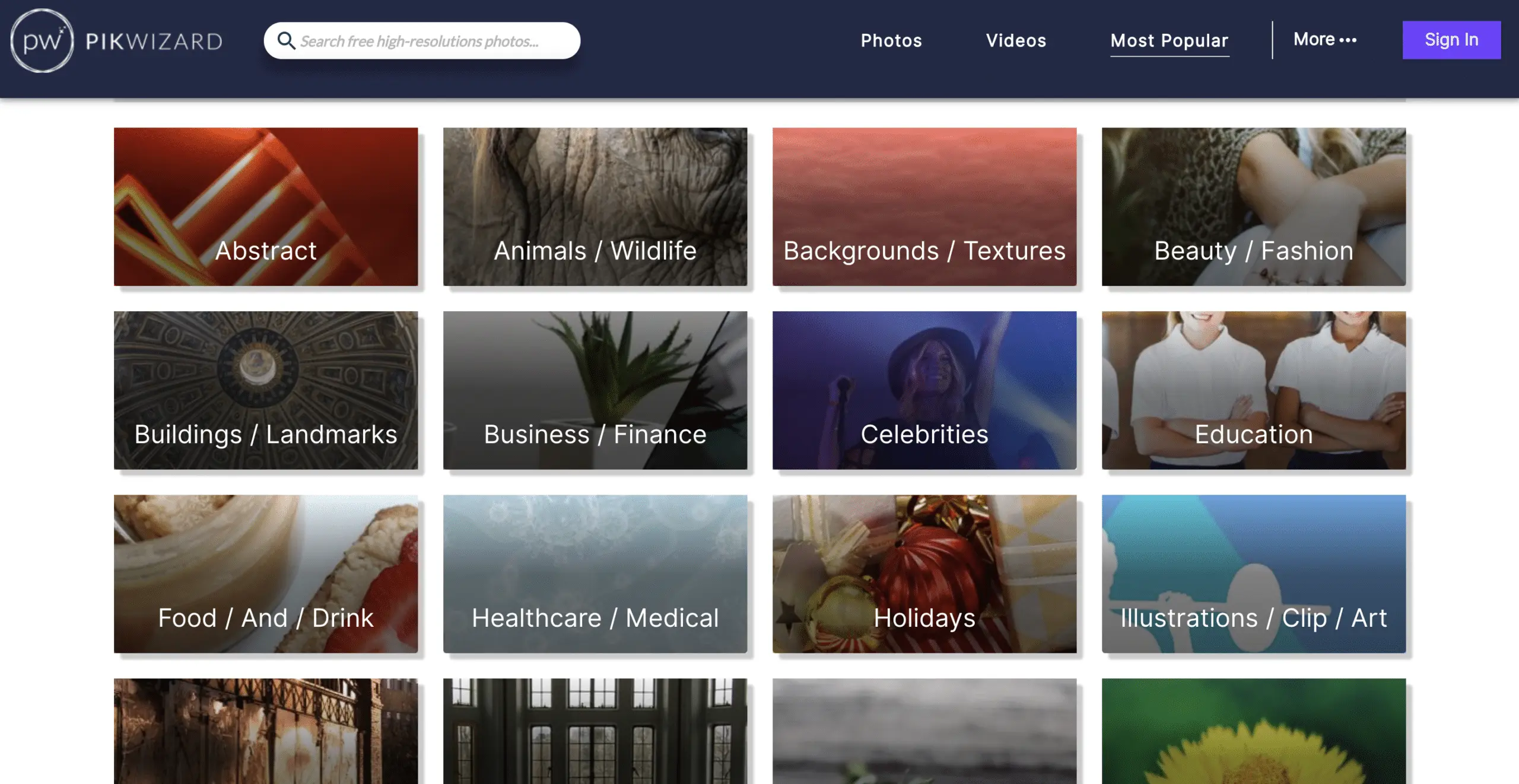 A collection of over 300,000 high-resolution images added by thousands of talented contributors. High-quality, creative photos just a couple clicks away!
A classic when it comes to royalty free images. Still, don't underestimate Pixabay's offer with that great choice of images, surely you'll find several options for your needs. Especially if you are looking for business related content.
A library that offers something different – Morguefile doesn't offer professionally processed photos, yet a choice of everyday situations, objects, etc. Worth checking out!
They call themselves "world's quirkiest collection of high-resolution free stock images" – curious to check it out, right? The library doesn't offer that great choice as the previously mentioned ones, yet you'll surely stumble upon unique, interesting and different material.
Another old-school free stock image library, good old Pexels! A good choice of well organized photos, a go-to place for everyone in need of top notch photo and video material.
Free Icon Resources
If you are a designer, you'll agree that icons are an asset you use on a daily basis. What a time saver would it be if you can simply download a good icon set, preferably in SVG, agree? Well, here's where you can find them:
Custom designed icons by a small, creative studio – updated every 10 days.
A library that offers more than 4496 free icons in 313 collections – enjoy!
Download SVG icons and access them right into Illu, Sketch, Adobe tools and more.
Download over 400 free SVG icons in basically one click. A fun choice of icons since they are "made for fun" by the Icons8 team!
If you are looking for icons to promote a better experience across the Shopify platform – this is the library for you.
Over 3 million icons for you to check out – luckily, they are well arranged into sections so you'll easily find what you are looking for.
The Freeicons team claims that they offer the largest database of free icons – worthy of view, right?
Oldie but goodie. As mentioned above, this library is always a good choice for designers, as it offers over 83.000 vector icons, for both personal and commercial use.
Free Illustrations Resources
Take advantage of open source illustrations: there's a great choice of pre made designs that will fit well to your project, no matter the type.
If you are working in Figma, here's a library for you! Free, amazing 3D illustrations that will wow even the most picky designers.
Another library for Figma users. Check HiTu for free illustration components that will really "help designers fulfill illustration requests gracefully and fast" – as they claim.
A beautiful library of component-based "sapiens" illustrations. The free library is limited, but still- the choice is very good. Choose from a variety of backdrops, body parts, poses and much more and create a unique combination for your needs.
A beautiful illustration pack that can be a good fit for both websites and applications.
Do you need help with website design?
Based on behavior patterns and human psychology, we create a fantastic user experience – it's simple, intuitive, and effective. Together, we will shape your idea into a beautiful visual story on your website.
Free Fonts Resources
If you have a bit stretched budget for typography – this list will surely come in handy.
A massive archive of all sorts of fonts – available for download, of course. Fonts are organised very well: you can browse by style, author, alphabetically…DaFont is an old-school library, but if you read our above lists you're already familiar with the fact that we are fans of good-old-resources.
An archive of over a thousand fonts that range from creative, like "Painting with Chocolate" to more formal font styles. The browsing experience is very pleasant, there're many examples, many creative font variations.
Now, here's one useful go-to font archive! With over 38,000 fonts we are sure that you'll find the perfect style for your project. This library is supported by over 2,500 designers that update the library on a regular basis. Check it out!
If you are a designer you are surely familiar with Awwwards. Apart from getting inspo for your designs, did you know that on their website you can download a bunch of amazing fonts, completely for free?
Have you already stumbled upon OSM's profile on Awwwards?
Although this collection goes without saying, we wanted to mention it just in case you overlook it. Google Fonts is certainly a place where you can find various fonts available in more than 135 languages. Are you already downloading fonts from this library?
And now something different – a font portfolio of one designer, Ivan Filipov, to be more precise. With his expertise in graphic and web design, Ivan has created a collection of amazing fonts ready for download. Don't believe us – have a look for yourself!
"The original, the first, the open-source font foundry" – they claim. And we agree. The team behind this library is motivated to raise design standards. Well, they collaborated with a bunch of big names like Barbie, Instagram, Discovery, 7Eleven…so they are definitely a trustworthy library.
Free Stock Videos Resources
A couple of video snippets can really make a difference when it comes to ads, websites, presentations and much more. You'll agree that creating high quality videos can be pretty pricey – that's why we gathered this list for you. Check out resources that we recommend for finding quality video clips completely free of charge for both personal and commercial use.
We've already mentioned Pexels – a top quality free stock video library with no strings attached. If you are seeking time-lapse videos, ones made by GoPro divers and climbers, food, fashion or music related videos – this is a library to check out. There's also a neat mockup category for footage of mobile devices with green screens – now, that will save you time when editing videos!
Free stock videos in HD resolution, 4K clips and much more – all available on Videezy. We recommend checking out the selection of aerial drone footage – the videos are stunning!
The only "catch" with videos from this library is that you should credit the author.
Videvo is a community-based stock video library with a huge selection of clips. The quality ranges from high-resolution ones to less quality ones – but in general, the choice is good.
If you'd like to contribute your own videos for others to download, just sign up for a free account. In the meantime, check out what other community members have to offer.
Dareful (ex Stock Footage 4 Free)
With new videos added daily, Dareful is a place where you can find a bunch of great videos, especially for social media. All videos come with royalty free licenses, so browse through the library until you find a perfect video for your project!
Free Design Tools
Design software can save a lot of time and energy for both amateur and professional designers. That's why we've decided to compile a list that will pimp your digital-design kit and assist your with producing great, professional content.
One of the best known graphic design tools on the market is surely Canva. It is very easy to use and has a bunch of options for designing any sorts of design material. Even if you are not a graphic design guru, with a free version you can create stunning ad creatives, social media posts, banners, presentations and much more. Oh, if you opt for the paid version, you'll enjoy even more helpful and creative solutions that this tool has to offer.
Pre-made templates, royalty free images, photos and videos, intuitive user interface…what else can we add to make you try Canva today?
Similar to Canva, Designbold is a great tool for making it fun and effortless to create your designs. You can achieve sophisticated visuals that can be used for many purposes without any technical skills.
The free plan offers many free layouts, stock photos, design resources…
Here's one full-featured vector design software that will enable you to create various designs: apps, icons, animation, illustrations and more. Gravit Designer's interface is very intuitive, the software comes with non-destructive booleans, a knife tool and many other helpful tools.
A in-browser online editor that enables you to create vector designs from scratch or to customize ones that are already offered. All in all, Vectezy is a very easy-to-use tool with surprisingly powerful features.
Here's a suggestion for one free, open-source painting tool. What's the catch? – it has been in development since 1999.! Krita comes with a set of many useful brushes, plugins, advanced filters, brush stabilisers, wrap-around mode…
"The most popular online photo editor in the world". Well, we agree. And with that many combinations of free filters, borders, overlays and other useful features no wonder that Pixlr has an army of satisfied customers.
Free Screenshot Tools
Well, screenshots are certainly not that popular among designers, but many times they come in handy. When in a need to take a screenshot of a mobile or laptop screen, a user testimonial or any other purpose here're some tools for you to check out:
Select an area, make a screenshot and save it as a link or image. Simple as that. Besides, Lightshot comes with several other neat features.
A light-weight screenshot tool for Windows. Features that we like are:
Fast screenshots of a selected area, window or fullscreen
Easy screenshot edit
Screenshot export as a file, email attachment, copy to clipboard…
The creators of Snagit wanted to make a tool that will help their users to capture any process on their computer screen in order to create visual instructions: text, video, audio…Of course, there are many other ways you could leverage this tool – so go for it!
….Surprise Bonus(es)!
As promised, here're some other useful resources that our designer love:
Hope that this list will help you to make the most out design – however, if you still need a hand don't hesitate to send a FREE quote. We're more than happy to share some suggestions for a potential, successful, creative collaboration!
Do you need help with website design?
Based on behavior patterns and human psychology, we create a fantastic user experience – it's simple, intuitive, and effective. Together, we will shape your idea into a beautiful visual story on your website.