Poke Olakino was founded with the idea to bring completely new value to the concept of fast food in Belgrade and to offer a healthier version of fast food that is also delicious.
Although Poke is originally Hawaiian food, the duo behind this idea first encountered a Poke bowl during a business trip to Huntington Beach, California. Poke food was love at first bite. Seeing the innovativeness of the Poke concept and the fact that it is widely accepted and popular in the West, they decided that Serbia deserves to have this type of food that is equally easy to prepare, but rich in quality ingredients and very tasty.
Poke is a diced raw fish that is served either as an appetizer or as a main course and is one of the main dishes of Hawaiian cuisine. The traditional forms are aku (skipjack tuna) and heʻe (octopus). Poke is usually called by the Japanese name tako poke, except in places like Niʻihau Island where the Hawaiian language is spoken.
Since this is a unique concept of fast food on the Serbian market, the development process itself was based on thorough research and the creation of a visual solution that represents the key elements of this Hawaiian cuisine. Inspired by the main ingredient of these dishes, the design uses fish as a central element and not so standard typography creating a dynamic visual language. Combined with intense colors, this identity brings a vibe of fresh food that is the essence of poke dishes.
Poke also offers a home delivery service, which is also one of the functionalities we developed for the client. The development of the online restaurant was a significant segment of the project development and the challenges that accompanied this part were mainly related to the development of clear user experience.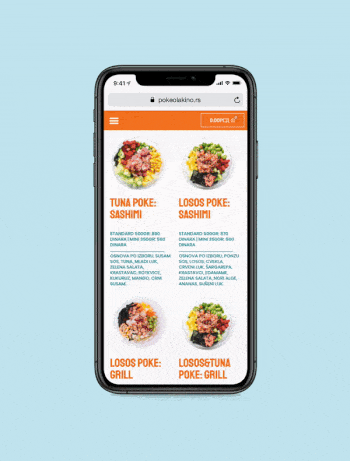 EXOTIC HAWAIIAN
FOOD AT YOUR ADDRESS
In addition to the web presence, Poke Olakino received a full identity package that includes menus, bags, stickers, flyers, window design, as well as branding of accompanying content in the restaurant. A colorful look of the Hawaiian vibe can be found throughout the entire restaurant.